Bimah Painting Workshop, 2013
The Handshouse Studio team returned to Poland to paint the hand carved re-creation of the original Bimah of the Gwoździec Synagogue in the summer of 2013. Faculty members Charles and Stephanie Stigliano led an international team of painters and students. Everyone spent time discussing the enlargements of black and white reference photographs from the1920s, which documented the original Bimah. The goal was not to create individual artistic interpretations, but to create as accurate a replica as possible based on years of accumulated research. All the painters prepared numerous test samples to develop a unified color palette, practice brushwork and work out exact pigment proportions. This method familiarizes the painters with the materials and techniques of 17th century regional painting. Everyone took a turn mulling the pigments. Woad, a plant-based pigment native to Poland, contains indigo and was a key color palette of the original Bimah. It must be mulled for thirty minutes or more to achieve the smooth, consistent texture necessary for painting. The pigments were hand ground a spoonful at a time and freshly mixed every few days with exact proportions of rabbit skin glue to create glazes. The paint layers needed to be applied at the correct temperature so the paint remains fluid and does not turn to gelatin. Careful planning was required to create a unified appearance in a project that included hundreds of student painters working on a project that spanned several years.
Making/History, 2012
In conjunction with Handshouse Studios, Stephanie and Charles Stigliano brought students to Poland in July 2012. Together they painted ceiling panels for a recreation of the Gwoździec Synagogue. They replicated 17th century painting methods by grinding local earth and plant pigments and mixing these with rabbit skin glue. For nine years, Handshouse Studio has gathered artists, historians, timber-framers, architects and students to recreate the exquisite 17 th century wooden Gwoździec synagogue at 85% scale. The eleventh group to participate in Making/History finished painting the South Dome on schedule. The team worked in a renovated synagogue, now a community arts center, in the town of Szczebrzeszyn. The Gwoździec Synagogue was one of two hundred wooden synagogues, which represented the golden age of 17th and 18th century Polish Jewry. The Nazis burned the last of these structures to the ground in 1939. Based on painstaking research, the Handshouse team reconstructed the polychrome ceiling and timber-framed roof using traditional tools, techniques and materials. The vaulted ceiling and the timber-framed roof are installed in the Museum of the History of Polish Jews, in Warsaw, Poland.
For more information please visit: www.handshouse.org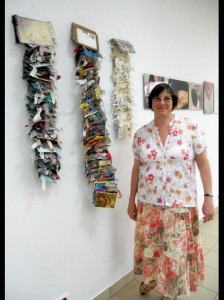 Korespondencja
Stephanie Stigliano with her three books, Looking Backward, Celebration and Windward, on display at the traveling exhibition, Korespondencja, in the House of Glass in Ciekoty, Poland, July 2012. The exhibition is traveling throughout Poland until 2014, when these books will become part of collection of the Book Arts Museum in Łodz, Poland.
http://korespondencja.bookart.pl/en/artists/stephanie_mahan_stigliano.html
Chrząszcz
W Szczebrzeszynie chrząszcz brzmi w trzcinie
I Szczebrzeszyn z tego słynie.
Wół go pyta: "Panie chrząszczu,
Po cóż pan tak brzęczy w gąszczu?"
Poem by Jan Brzechwa
Cricket
In the town of Szczebrzeszyn a beetle buzzes in the reeds
And Szczebrzeszyn is famous for it.
An ox asks him, "Mister Beetle,
What are you buzzing for in the bushes?"
Translation by Walter Whipple