Hurumzi Henna Art Gallery, Stonetown, Zanzibar, Tanzania, July, 2014. Workshop led by Stephanie Stigliano
For three days in July, the artists of Hurumzi Henna Art Gallery and I worked together in their penthouse studio which looks onto the bustling Hurumzi street in the center of town.
The lovely and talented artists of the women's collective of Stonetown graciously allowed me to enter their private realm. Through the generosity of Speedball Art and artists from the US, I was able to deliver 50 pounds of donated supplies to the studio. We made paste paper, stencils, relief prints and Suminagashi marbling. They combined these techniques with their henna painting to produce uniquely layered and colorful pamphlet bound books and cards. Here are the artists displaying the artwork they made during the workshop. The visit was a highlight of my trip to Africa and an experience I will never forget. The artwork they produce, like the colorful clothes they wear, is an extension of their beautiful spirits.
Below, left: Showing their artwork: from left to right: Asya, Fatuma, Mwana, Mtumwa, Jamila, Saada, Rey, Najma and Khadija.
Below, right: Group with head scarf for Stephanie: back row: Jamila, Asya, Mwana, Stephanie, Khadija, Rey. Front row: Fatuma, Najma, Mtumwa , Saada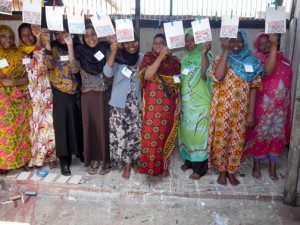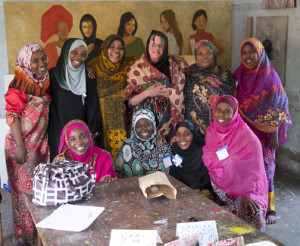 Flora, the manager, Mtumwa, Rey, Fatuma, Mwana, Stephanie, Khadija. Front row: Najma, Asya, our translator, Jamila and Saada.
.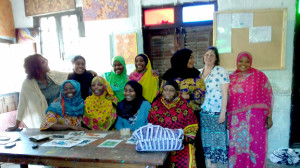 Najma is wearing a blue scarf, Khadija is in pink and Fatuma is in yellow.